Dear parents,
do you remember when you too were children?
…. that pure feeling of excitement waiting for Christmas
…. or when mommy would snuggle with you reading a sweet story
…. running through the meadows or stopping to watch the clouds evaporate
…. they made you dream…..
Give your children memories that will last a lifetime!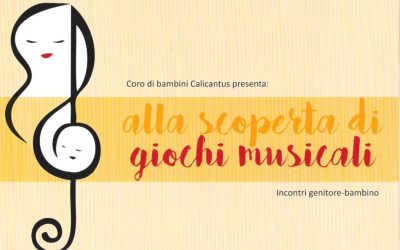 Alla scoperta di giochi musicali Lunedì 16 gennaio 2023 inizia il nuovo ciclo di 8 "Incontri Genitore-Bambino", momenti che offrono la possibilità di stimolare la relazione tra mamma o papà e bambino attraverso l'esperienza sonora. È possibile ottenere ulteriori...
read more
…. the singing of his choir is delicate, free of presumptions and the urge to fascinate with technical tricks and complications… it offers a profound experience and sheer emotion.
Already as a child I realized how lucky I was to sing in this choir and it was already very clear to me that something magical was happening.
In this choir everyone welcomes you, the beautiful thing is that you really make true friends.
You could even come to a lesson disheveled and nothing would happen, you can express your feelings and they listen to you. Singer